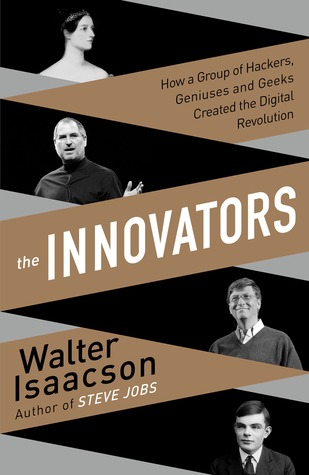 Cross-posted from Goodreads
I received the book as a gift from my sister. It's one of the best gifts I ever received.
On the surface, The Innovators seems like a glorified historical account of the most popular digital-era inventors and entrepreneurs – people we know all too well. The reality of the book, however, is not even close. More than inventions, innovations, and revolutions, this book is about community and collaboration.
Starting from the 1800s and going till the mid-2010s, it recounts how hardware and software responsible for the Digital Revolution were built, the people involved, and legacies created for the future generations of innovators. Thus, by discussing countless examples of critical inventions the book lays out a general process for innovation. In doing so, the book ends up being solid, fact-driven evidence that innovation happens in collaboration. It CANNOT happen in isolation: no matter how brilliant or visionary inventors maybe, if they do not have a team of smart people to execute their vision innovation does not happen. Those smart people may be skilled engineers who can make things, inventive experimenters who can craft prototypes in no time, or resolute people managers who know to "get things done."
Another lesson is that – most of the time – innovation is not 'original'. Rather, it builds on existing ideas. The most successful innovations are those that are the right blend of disparate pre-existing ideas brought together to achieve a common goal.
I also loved the concluding chapter's central premise that the biggest use of computers is in human-computer symbiosis, where computers work alongside humans to achieve previously impossible goals. In such a relationship, humans and computers are partners where humans bring creativity and original thinking to the table while computers help through their raw power to process massive amounts of data in little time. The author notes that such a relationship is in stark contrast with the vision of Artificial Intelligence purists who aim to replace the human mind with thinking machines, a dream that may never be realized (for good reason).
Isaacson's astute storytelling combined with historically accurate facts and quotes come out as a page-turner, a term that sadly cannot be applied to most other biographies and historical books. The way the author starts several threads together and later knits them together as evidence of collaborative innovation is just lovable, fun, and admirable at the same time.
This one's highly, highly recommended for anyone looking for the secret sauce for successful innovation. It's also good if you just want to get your history about important digital-era milestones right.